Sweden: Country Report
Keywords:
COVID-19, pandemic response, Sweden, PAN-FIGHT, risk communication
Synopsis
Product of the research project Fighting pandemics with enhanced risk communication: Messages, compliance and vulnerability during the COVID-19 outbreak (PAN-FIGHT). Other PAN-FIGHT reports published by UiS: United Kingdom Country Report, Switzerland Country Report and Germany Country Report.

This report is part of a larger cross-country comparative project and constitutes an account and analysis of the measures comprising the Swedish national response to the COVID-19 pandemic during the calendar year of 2020. The notable departure of the Swedish approach to the  battling of the pandemic has attracted considerable international interest, both in academic circles and in various media outlets. We deem the institutional and legal framework of the country of considerable salience to the understanding of the response to the pandemic, and for this reason, we contextualize the this response (operationalized as a set of policy outputs) within the broader Swedish political and administrative system.
Indeed, the Swedish contagion mitigation measures were a departure from that of other European countries, including its Nordic[i] neighbors. Sweden's measures included no compulsory lockdowns and shutdowns of businesses and were mainly voluntary in the sense they did not include instruments of enforcement, such as fines or legal penalties. The legal framework, political sensibilities, and administrative system did not allow for a declaration of state of emergency (see Petridou, 2020 for more on the politics/administration dichotomy in Sweden). The Swedish strategy has not been uncontroversial and has attracted criticism in the international and domestic media (Savage, Reeves, and Estrin 2020) as well public criticism from experts (see, for example, Carlsson et al. 2020). It is also true that the number of cases per 100,000 as well as the mortality rate have been higher than those in the neighboring Nordic countries (Johns Hopkins 2021). Indicatively, as reported in Petridou (2020), close to the end of the first phase of the pandemic, Sweden had experienced a higher death rate than both its Nordic neighbors and the European Union (EU) as a whole.
This is not to say that the Swedish government sat on its hands. In terms of legislation, not only did the Swedish Parliament (Riksdag) decided on contagion mitigation measures proposed by the National Health Agency of Sweden (PHAS), it also made several budget amendments to shore up social benefits for the purpose of assisting households and viable businesses. Contagion mitigation measures fell under the following categories: (1) travel advisories (international as well as national, including a ban on incoming international travelers); (2) general regulations regarding hygiene, staying home when having symptoms, and physical distancing; (3) general regulations about working from home; (4) general recommendations regarding online teaching at high schools and universities; (5) limits on public gatherings; (6) limits on restaurant operations; (7) limits on elder care home visits; (8) general regulations regarding using mass transportation (National Institute for Economic Research, 2020).
Assessing the response in terms of success or failure is beyond the scope of this report. Our objective is to contribute to an increased understanding of the Swedish COVID-19 contagion mitigation policy at the national and subnational levels. What is more, the COVID-19 pandemic has been dynamic and unfolding over a long period of time. It is important to keep in mind that the Swedish crisis management system is premised on the tenet that operations must remain as close to non-crisis mode as possible. In summary, the Swedish response was designed to be sustainable over time and aimed at avoiding emergency measures and extraordinary institutions.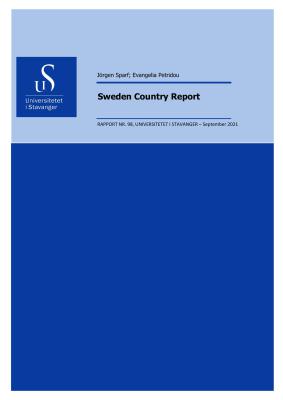 Downloads
Copyright (c) 2021 UiS Scholarly Publishing Services
License
This work is licensed under a Creative Commons Attribution 4.0 International License.