Anticipation and Change: The 11th Conference of the Nordic Association for Semiotic Studies (NASS XI), Abstract Book
Keywords:
semiotics, semiotic studies, child development, human development, cultural change, environmental change, ontogeny, evolution
Synopsis
The overall theme of NASS XI is «Anticipation and change». Relevant topics include – but are not limited to – the semiotics of child development and human development in general, social change, cultural change, environmental change, ontogeny, and evolution. The anticipatory aspect implies that future studies and the power of imagination are also relevant topics, as are, potentially, learning and perception, expectation and prediction, foresight and preconception. We have welcomed abstract proposals that approach these topics from a semiotic perspective and draw on interdisciplinary relations between semiotics and other disciplines.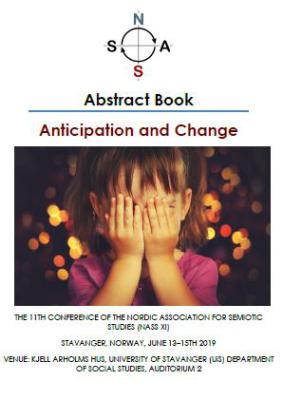 Downloads
Copyright (c) 2019 The authors
License
This work is licensed under a Creative Commons Attribution 4.0 International License.