Traditional and cyber victimization: Emotional problems and perceived teacher support
Keywords:
cyber victimization
Synopsis
Background: The lives of children in school is rapidly changing and their off-line and on-line lives are becoming more and more interwoven, this is also making the field of bullying more complex. Although bullying is a field that has been studied for quite some time, new technology is creating new challenges. There is still a need to know more about the possible emotional problems traditional and cyber victimization has on the students experiencing it. Knowing how it affects them is however not enough as it is also important to know what the teacher could do to make the situation better for these students when the bullying has happened. On this background, the current thesis attempts to highlight the different emotional problems detected between students having experienced traditional and / or cyber victimization, and to explore these consequences in depth, in addition to shed some light on how the class teachers' response is perceived when the bullying has happened.
Aims: The primary aim of this thesis was to contribute to the knowledge and theory building regarding the emotional consequences of traditional and cyber victimization and the importance of the authoritative class teacher in the intervention of bullying cases. A sub aim was related to practical implications and covers helping teachers in their practical work better recognize different emotional symptoms in addition to making them aware of the importance of the authoritative class teacher and protective control when intervening in cases of bullying.
Methods: Paper 1 builds on data from questionnaires from the nationwide school environment study conducted by Center for behavioral research in Norway in 2008. The data were collected using self - reported questionnaires, 3046 students participated in the study. For analysis SPSS software was initially used. Further latent variables in Structural Equation Modeling (Mplus) was used for investigating the relation between victimization and emotional problems. Paper 2 and 3 builds on qualitative data from 10 semi structured individual interviews performed both in Norway and Ireland. All the respondents had experienced traditional victimization and many of them also cyber victimization. The sample consisted of 10 cases that were reported closed to either the Norwegian centre for learning environment and behavioral research in education (NSLA), University of Stavanger or the National anti-bullying research and resource centre, Dublin City University.
Results: The results in paper 1 showed a stronger association between cyber victimization and symptoms of anxiety than between traditional victimization and symptoms of anxiety. There were also a stronger association between traditional victimization and symptoms of depression than between cyber victimization and symptoms of depression.
 The results in paper 2 showed differences regarding descriptions of symptoms of post-traumatic stress for those respondents having experienced only traditional and those having experienced both traditional and cyber victimization. The respondents having experienced both traditional and cyber victimization where the only ones reporting trouble sleeping, experiences of fear outside school and behavioral avoidance also outside school.
The findings in paper 3 showed that none of the class teachers were perceived as authoritative by the respondents, i.e. high on both warmth and control, during the time the respondents were bullied.
Conclusion: Both the findings in paper 1 and 2 points in the direction of cyber victimization causing more symptoms of anxiety than traditional victimization. The reasons for these results are yet to be investigated in future studies, however as cyber victimization often includes the aspects of anonymity and publicity, these could be contributing to the victim reporting more anxiety when having experienced cyber victimization. To reduce the experienced anxiety it is suggested that the teacher in bullying intervention needs to demonstrate an authoritative teacher style, which is found in paper 3 to be absent. In addition to emphasize the importance of showing warmth and control, the theoretical concept of protective control is introduced.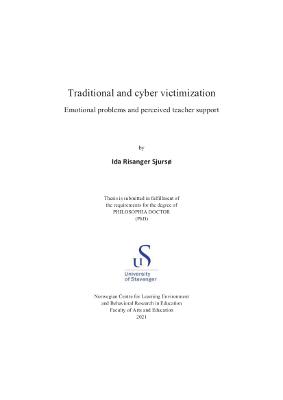 Published
January 15, 2021
Copyright (c) 2021 The Author(s)
This work is licensed under a Creative Commons Attribution-ShareAlike 4.0 International License.