Eden and Everything After
Keywords:
art, art history, archaeology, exhibitions, August Macke, Franz Marc, Eden, soapstones, falconry, Jan Bruegel the Elder
Synopsis
The temporary exhibition Eden and Everything After is one of a series of exhibitions where the Museum of Archaeology, University of Stavanger, collaborates with artists to invite their unique perspectives into our museum.
Our exhibitions are meant to share collections, but often the objects are presented in solitude, although several together on a showcase shelf, they are elliptical and turn on their own axes. The rich life that surrounded them, in all its dirty physicality, is lost in translation. It is our work as a research institution to bring forth knowledge of those messy, lively interfaces that once existed.
Dissemination of our research, both of its foundational value and its consequences for current affairs, is part of our strategic mission. A fruitful approach to reach this aim is to collaborate with artists and other strong, current voices. Eden and Everything After is one of several projects where we welcome artists to activate our collections. By welcoming the artistic gaze, we wish to give our visitors a new dimension and inspire to novel refections on our own exhibitions.
Chapters
Connecting to the Past

Artistic Research and Intuitive Listening

Eden – Time and Again

An Essay on Despair and Hope

Encounters with Animals from Lost Worlds

Of Honey-Coloured Stone

The Snake, the Fruit and an Ancient Truth

The Raptor-Human Relationship in Falconry

The Falconer

Realising Urban Imaginaries of Eden

Green Transport Access in Stavanger

Rebuilding Paradise Lost

Dutch Art and Innovation as Both Ideal and Solution

Expanding Eden

Animal discovery and rethinking paradise in Jan Brueghel the Elder's Garden of Eden

Traumatic Imagination in Franz Marc's Animalisation of Art

Interpretation of the Fanal as Hortus Conclusus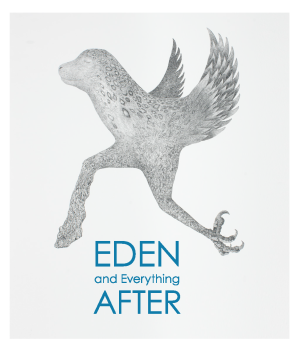 Downloads
Categories
Copyright (c) 2023 Grayston Iselin, Kristin Armstrong-Oma, Tanja Thorjussen, Håkon Reiersen, Elna Siv Kristoffersen, Tanja Müller-Jonak, Ellen Hagen, Laura Hohlwein, Siddharth Sareen, Stephanie Lebas Huber, Dolly Jørgensen, Julie Kim Rossiter, Jean Marie Carey, Olaya Sanfuentes
License
This work is licensed under a Creative Commons Attribution 4.0 International License.