Final and Revised Administrative Report to Nordic Innovation Centre: Project: 08073 Nordic Event Tourism Networks
Keywords:
turisme, tourism, festivaler, festivals, event tourism
Synopsis
The tourism sector is an important business sector in the Nordic countries, contributing positively to economic and regional development. The region faces increased international competition and statistics on national tourism performance developed by the OECD show that the Nordic countries lag behind the average numbers for the other OECD members. This indicates that there is room for improvement for the Nordic tourism industry. The Nordic region has a vast playing ground of beautiful nature, distinct seasons, unique history and culture, and advanced technical infrastructure. In order to gain market share and confront increased global competition, the Nordic tourism industry must reposition itself and introduce new, innovative service offerings to meet the individual needs of modern travellers. It is also important to offer holistic quality offerings by improving public-private, cross-sector and cross-border cooperation.
Festivals and events are possible tools in both place and tourism development, and events and event tourism are often pointed at when discussing growth and development. Many regions expect a positive event development, offering job opportunities along the way. In the Nordic area, some few events have existed for a while and hence demonstrated their capacity of rejuvenation, while other, recently developed events harvest innovation awards with their untraditional and creative, "born global" concepts. Despite these inspirational examples, most new entrants to the Nordic festival market work in isolation and "start from scratch" to tackle issues that are similar and comparable in most contexts. To date, there are no systematic studies analysing the success (or failure) of event management, or aiming at understanding the market in a greater depth.  There is no comprehensive knowledge available on best practices in festival management, event development, network leadership, innovation processes or visitor behaviour.
The objective of this project was to generate and share knowledge about festival and event management based on a cooperation between academic researchers and Nordic festival organisers. By identifying and exchanging best practices of strategic leadership, innovation in networks, and visitor mapping, the project aims at improving the sustainability and renewal of festivals. This project will break new grounds by: 1) developing a data base on strategic management parameters for festivals; 2) measuring visitor's experiences in time and space and movements at events; 3) generate knowledge about innovations like social media in the festival sector; 4) developing knowledge platforms and meeting places for festivals; and 5) development through mentoring, including also the strengthening of a Nordic event research and teaching network. The project was organised according to 4 milestones and 24 work packages. This brief report is summarizing the achievements of the project along these lines. References to publications and other outputs are given when relevant.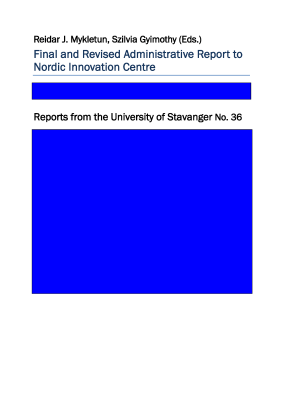 Downloads
Copyright (c) 2011 Reidar J. Mykletun, Szilvia Gyimothy
License
This work is licensed under a Creative Commons Attribution 4.0 International License.