Gendered dimensions of the COVID-19 Pandemic
Keywords:
Covid-19, pandemic response, risk communication, PAN-FIGHT, gender, Norway, Sweden, Switzerland, Germany
Synopsis
This report forms part of the deliverables produced by the international research project Fighting pandemics with enhanced risk communication: Messages, compliance and vulnerability during the COVID-19 outbreak (PAN-FIGHT), funded by the Norwegian Research Council. It provides an overview of project findings pertaining the gender dimensions of the pandemic, with a particular focus on risk perceptions, compliance and vulnerability.
The COVID-19 pandemic has reiterated that the impacts of a crisis are not homogenous. Gender, which encapsulates both biological and socio-cultural ways of being, plays a role in how crises are experienced. This is evidenced by the health, economic as well as societal consequences of the COVID-19 pandemic which have affected women and men, girls and boys differently. Knowledge about gendered implications of the pandemic is thus vital for designing equitable policy responses.
This report draws on evidence from former research as well as on findings from an online survey conducted as part of the project's data collection in 2021. The survey, reaching out to respondents in Norway, Sweden, Germany, Switzerland and the United Kingdom, investigated public risk perceptions, reactions to governmental of risk communication about COVID-19, compliance with governmental restrictions and risk mitigation measures and vulnerability during the pandemic (N=4206).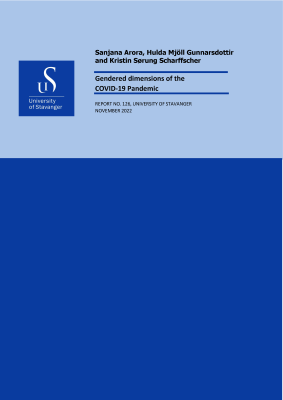 Downloads
Copyright (c) 2022 Sanjana Arora, Hulda Mjöll Gunnarsdottir, Kristin Sørung Scharffscher
License
This work is licensed under a Creative Commons Attribution 4.0 International License.