Comparative report of the COVID-19 Pandemic Responses in Norway, Sweden, Germany, Switzerland and the United Kingdom
Keywords:
Covid-19, pandemic response, risk communication, PAN-FIGHT, Norway, Sweden, Germany, Switzerland, United Kingdom
Synopsis
The purpose of this report is to compare the risk communication strategies and public health mitigation measures implemented by Germany, Norway, Sweden, Switzerland, and the United Kingdom (UK) in 2020 in response to the COVID-19 pandemic based on publicly available documents. The report compares the country responses both in relation to one another and to the recommendations and guidance of the World Health Organization where available. The comparative report is an output of Work Package 1 from the research project PAN-FIGHT (Fighting pandemics with enhanced risk communication: Messages, compliance and vulnerability during the COVID-19 outbreak), which is financially supported by the Norwegian Research Council's extraordinary programme for corona research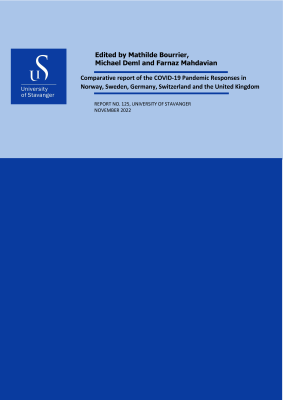 Downloads
Copyright (c) 2022 Mathilde Bourrier, Michael Deml, Farnaz Mahdavian
License
This work is licensed under a Creative Commons Attribution 4.0 International License.