Highly dilute water chemistry in mountain lakes in south-western Norway: Obstacles for fish populations?
Keywords:
water chemistry, mountain lakes, fish populations, fish death, fiskedød, ionic strength, acidic water
Synopsis
With the exception of acid water associated with salt episodes, acidification had apparently limited effects on the fish populations in the study area during the period from 1850 to 1950. The acid deposition was low and the population dynamics, including alternating decline and recovery in intervals of 20-30 years, are not consistent with a gradual[1]ly increasing acidification. There are indications that variations in conductivity between periods of years may have contributed to the population dynamics during this period.


During the 1980s and the first half of the 1990s, many trout populations in the study area recovered due to a sea salt induced increase in conductivity. Such an effect enhances the tolerance to acidic water.


Based on 2012 water chemistry data, 36% of the mountain lakes in Rogaland County had too dilute water to support self-reproducing brown trout populations. Without the marine ion contribution, 89% of these lakes may not support trout populations. Therefore, the effects of dilute water chemistry are obstacles for the fish populations in mountain areas in southwestern Norway.


The supply of marine ions is highly dependent on meteorological/climatic factors. With increasingly unpredictable meteorology in short term and uncertainties regarding long-term climate development, it is difficult to predict the future environmental conditions for the trout populations in the study area.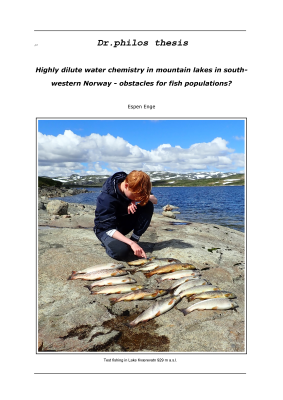 Downloads
Copyright (c) 2022 Espen Enge
License
This work is licensed under a Creative Commons Attribution 4.0 International License.