hAIst Conference: Health-related Artificial Intelligence in Stavanger
Keywords:
artificial intelligence, health services
Synopsis
Conference arranged by members of the network "Kunstig intelligens i norsk helsetjeneste" (Artificial Intelligence in the Norwegian health service) at the Department of Computer Science and Electrical Engineering, University of Stavanger.

This publication contains abstracts of all posters presented at the conference, which took place at the University of Stavanger, 13th – 14th June 2022.
Chapters
CONTENTS:

- Towards Automatic Staging of Non-Muscle Invasive Bladder Cancer

- Detection of Histopathological Artifacts in Whole Slide Images

- Uncertainty estimation in deep-learning brain tumor segmentation

- How old is your brain as measured by MRI? That depends on the modality

- Fast and robust insula segmentation from 3D MRI brain images to explore brain- behavior relationships in irritable bowel syndrome

- Glioma segmentation and localization using deep learning and virtual brain grafting with perspectives for clinical outcome

- Predictions of infarcted areas in acute ischemic stroke using 4D Temporal Convolution Network

- Identifying autopsy-reports in unstructured, digitized patient records: A pilot-study from the Norwegian Health Archives Registry

- Kidney segmentation from motion- corrected DCE-MRI using convolutional neural networks and blind signal processing

- AI in mammography screening: Retrospective analysis of 1254 breast cancer cases from a population-based screening program

- Secure and Privacy-Aware Distributed Resource Allocation in 5G Multi-Access Edge Computing based Healthcare Applications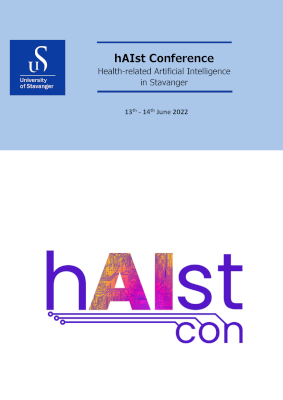 Downloads
Copyright (c) 2022 The authors
License
This work is licensed under a Creative Commons Attribution 4.0 International License.