Beverens reise
Keywords:
bevere, naturvern, økologisk mangfold, Åmli
Synopsis
Folk tar ofte ting for gitt i naturen – at noe har vært der så lenge at man tror det alltid har vært der og alltid vil fortsette å være der. Men sånn er det ikke. Vi vet at mange dyrearter over hele verden har dødd ut på grunn av mennesker, både direkte gjennom jakt og fordi mennesker endrer økosystem og klima.

Bever er et vanlig skandinavisk dyr som man vanligvis ikke tenker spesielt ofte på. Alle vet hvordan den ser ut med våt pels, en tjukk hale, og ei hytte laget av kvister og pinner. Den har da vel alltid vært der, eller hva?

Men faktisk var det slik at beveren på slutten av 1800-tallet hadde forsvunnet fra hele Sverige og nesten hele Norge. Noen naturinteresserte folk begynte å tenke at beveren burde være en del av skandinavisk natur, så de organiserte flere prosjekter for å sette ut bevere på steder hvor den ikke fantes lenger. Over 100 bevere ble flyttet fra Åmli i Sør-Norge over grensen til Sverige i perioden fram til andre verdenskrig.

Denne boken handler ikke om beverens naturhistorie. Den er en historie om menneskers tilknytning til naturen. Den er en historie om hvordan vanlige folk reagerte da de oppdaget at beveren var borte, og hva de tenkte at de kunne gjøre med det. Den er en historie om å bry seg om naturen. Boken forteller historien om hvordan et lite sted i Norge bidro til tilbakekomsten av den europeiske beveren i Skandinavia. Den er historien om beverens reise fra Åmli tilbake til naturen som beveren hadde forsvunnet fra.

Det er en høyst passende historie å fortelle nå siden det i 2021 vil være hundre år siden den første beveren ble fanget i Norge og sendt til Sverige for å settes ut der.
References
Anderson, Per Axel. «Då bävern återbördades till Västerbotten». Västerbotten: Västerbottens läns hembygdsförenings årbok, 1924-1925.

Arbman, Sven. «När bäfvern återinfördes i Bjurälfven». Svensk Jägareförbundets Tidskrift, 1922.

Behm, Alarik. Skansens Zoologiska Trädgard. Nordiska Museets Förlag, 1922.

Behm, Alarik. Nordiska Däggdjur: 177 Bilder från Skansen. J. A. Lindblads Bokförlag, 1922.

Collett, Robert. «Bæveren i Norge, dens Udbredelse og Levemaade (1896)». Bergens Museums Aarbog, 1897.

Collett, Robert. «Meddelelser om Norges Pattedyr i Aarene 1876-1881». Nyt Magazin for Naturvidenskaberne, 1882.

Collett, Robert. «Om Bæveren (Castor fiber), og dens Udbredelse i Norge fordum og nu». Nyt Magazin for Naturvidenskaberne, 1883.

«De energiske kolonister i avsidesliggende dalfører». Aftenposten, 9 okt. 1926.

Festin, Eric. «Bäverns återinplantering i Jämtland». Sveriges Natur, 1921.

Festin, Eric. «Bäverns återinplantering». Jämten, 1922.

Fries, Carl. Bäver Land. Nordisk Rotogravyr, 1940.

Geete, Erik. «Bävern i Sverige och Norge». Skogen, 1929.

Gisler, Nils. «Rön och berättelse om Bäfverns natur, hushållning och fångande». Kungl. Svenska vetenskapsakademiens handlingar, 1756.

Halley, Duncan, Ivonne Teurlings, Hannah Welsh, & Claire Taylor, «Distribution and patterns of spread of recolonising Eurasian beavers (Castor fiber Linnaeus 1758) in fragmented habitat, Agdenes peninsula, Norway». Fauna norvegica, 2013.
https://doi.org/10.5324/fn.v32i0.1438

Jones, Simon & Róisín Campbell-Palmer, The Scottish Beaver Trial: The Story of Britain's First Licensed Release into the Wild. Scottish Beaver Trial, 2014.

Jørgensen, Dolly. Recovering Lost Species in the Modern Age: Histories of Longing and Belonging. MIT Press, 2019.
https://doi.org/10.7551/mitpress/12345.001.0001

Nilsson, S. Skandinavisk Fauna, vol. 1 Däggdjuren. Lund, 1847.
https://doi.org/10.5962/bhl.title.5114

Salvesen, Sigvald, «The Beaver in Norway». Journal of Mammology, 1928.
https://doi.org/10.2307/1373424

Steffens, Haagen Krog. «Nicolai Benjamin Aall». I Slægten Aall. Kristiania, 1908.

Swederus, G. Skandinaviens Jagt: Djurfänge och Vildafugl. Stockholm, 1832.

Sylvén, Axel. «Bävern tillbaka till Västerbotten». Västerbottens läns Jaktvårdsförenings årsbok, 1922.

Sylvén, Axel, «Våra Bävrar». Västerbottens läns Jaktvårdsförenings årsbok, 1924.

Tjomsland, Arne. «Dødsfall». Aftenposten, 1 oktober 1963.

Unander, F. «Ett från svenska jagtbanan försvunnet dyrbart djur». Svenska Jägarförbundets Nya Tidskrift, 1873.

Wahlberg, Lennart. «Bäverns återbördande till Syd-Lappland». Västerbottens läns Jaktvårdsförening årsbok, 1925.

Wisth, Bjarne, «Beveren i Sognli revier, Norges første naturpark». Trondhjems turistforening årbok, 1936.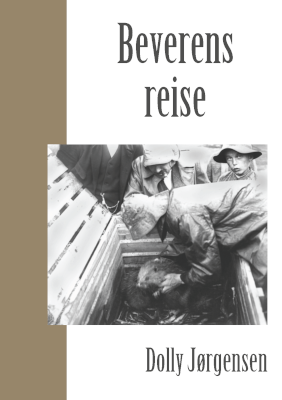 Downloads
Copyright (c) 2021 Forfatteren
License
This work is licensed under a Creative Commons Attribution 4.0 International License.