De etterlatte ved hendelsesbaserte tilsyn av dødsfall- en evaluering
Keywords:
helsedag, hendelsesbaserte tilsyn, etterlatte, pårørende
Synopsis
Universitetet i Stavanger (UiS), ved Senter for kvalitet og sikkerhet i helsetjenesten (SHARE), overleverer herved endelig sluttrapport for prosjektet: De etterlatte ved hendelsesbaserte tilsyn av dødsfall – en evaluering.

Vi ønsker å takke for oppdraget og et meget godt samarbeid med fylkesmannen. Vi ønsker å takke alle etterlatte som stilte opp. De etterlatte lot oss delta på møter som observatør, og fortale oss om sine opplevelser i møte med fylkesmannen i en tøff tid, etter at de hadde mistet en person de hadde nær i et uventet dødsfall. I prosjektet stilte også saksbehandlere hos fylkesmannen opp og delte sine forventninger, erfaringer og vurderinger av involvering av etterlatte i hendelsesbaserte tilsyn. Dette er vi også takknemlige for. Prosjektleder hos fylkesmannen Einar Hannisdal, inviterte UiS og SHARE med på prosjektutviklingen og søknad til Statens helsetilsyn (Helsetilsynet). Hannisdal har hatt en sentral rolle i samarbeidet relatert til rekruttering, organiseringen av datainnsamling og diskusjon om resultater og implikasjoner. Anbefalinger og resultater presentert i rapporten står UiS og SHARE ansvarlige for, men vi ønsker å takke prosjektleder hos fylkesmannen for den viktige rollen han har hatt for gjennomføringen av evalueringen.

Samlet sett har dette arbeidet pågått i nesten to år og vi takker for tilliten alle har vist oss. For UiS og SHARE er dette et betydningsfullt oppdrag for å bidra til oppbygning av et viktig forskningsfelt, samtidig som det er sentralt for en kunnskapsbasert utvikling av tilsynsmetoder og praksis.

Vi håper rapporten, resultatene, råd og forslag til videre praksis og forskning kan komme til nytte for de det måtte angå.
References
Renedo, A., et al., Patient and Public Involvement in Healthcare Quality Improvement: How organizations can help patients and professionals to collaborate. Public Management Review, 2015. 17(1): p. 17-34.
https://doi.org/10.1080/14719037.2014.881535
Sutton, E., H. Eborall, and G. Martin, Patient Involvement in Patient Safety: Current experiences, insights from the wider literature, promising opportunities? Public Management Review, 2015. 17(1): p. 72-89.
https://doi.org/10.1080/14719037.2014.881538
Bouwman, R., et al., Is There a Mismatch Between the Perspectives of Patients and Regulators on Healthcare Quality? A Survey Study. Journal of Patient Safety, 2017. Published Ahead of Print
https://doi.org/10.1097/PTS.0000000000000413
Bouwman, R., et al., Involving patients and families in the analysis of suicides, suicide attempts, and other sentinel events in mental healthcare: a qualitative study in the Netherlands. International Journal of Environmental Research and Public Health, 2018. 15(6): p. 1104.
https://doi.org/10.3390/ijerph15061104
Lippestad, J.W., Rapport: Følgeevaluering av prosjket Styrket involvering av pasienter, brukere og pårørende i tilsyn. 2018, SINTEF: Oslo.
Helse- og omsorgsdepartemantet, NOU 2015: 11 Med åpne kort, Oslo 2015.
Wiig, S., et al., Transparency in Health Care: Disclosing Adverse Events to the Public, in Risk Communication for the Future: Towards Smart Risk Governance and Safety Management, M. Bourrier and C. Bieder, Editors. 2018, Springer International Publishing: Cham. p. 111-125.
https://doi.org/10.1007/978-3-319-74098-0_8
Helsetilsynet. Involvering av pasienter, brukere og pårørende i tilsyn. 2018; https://www.helsetilsynet.no/tilsyn/involvering-av-pasienter-brukere-og-parorende-i-tilsyn/].
Bergerød, I.J., et al., Next-of-kin involvement in improving hospital cancer care quality and safety - a qualitative cross-case study as basis for theory development. BMC Health Services Research, 2018. 18(1): p. 324.
https://doi.org/10.1186/s12913-018-3141-7
O'Hara, J.K., K. Aase, and J. Waring, Scaffolding our systems? Patients and families 'reaching in' as a source of healthcare resilience. BMJ Quality & Safety, 2018. 28(1): p. 3.
https://doi.org/10.1136/bmjqs-2018-008216
Rutz, S., et al., Inspectors' responses to adolescents' assessment of quality of care: a case study on involving adolescents in inspections. BMC Health Services Research, 2018. 18(1): p. 226.
https://doi.org/10.1186/s12913-018-2998-9
Adams, S., H. van de Bovenkamp, and P. Robben, Including citizens in institutional reviews: expectations and experiences from the Dutch Healthcare Inspectorate. Health Expectations, 2013. 2013(18): p. 1463-1473.
https://doi.org/10.1111/hex.12126
Haraldseid, C., L. Schibevaag, and S. Wiig. Involvement of the bereaved in supervisory investigation of severe adverse events: A literature review. in NSQH 2018. Copenhagen NSQH Proceedings
Patton, M., Qualitative research and evaluation methods 2002, Thousand Oaks: Sage.
Braun, V. and V. Clarke, Using thematic analysis in psychology. Qualitative Research in Psychology, 2006. 3(2): p. 77-101.
https://doi.org/10.1191/1478088706qp063oa
Kok, J., I. Leistikow, and R. Bal, Patient and family engagement in incident investigations: exploring hospital manager and incident investigators' experiences and challenges. Journal of Health Services Research & Policy, 2018. 23(4): p. 252-261.
https://doi.org/10.1177/1355819618788586
Doyle, C., L. Lennox, and D. Bell, A systematic review of evidence on the links between patient experience and clinical safety and effectiveness. BMJ Open, 2013. 3(1): p. e001570.
https://doi.org/10.1136/bmjopen-2012-001570
Wiig, S., Contributions to risk management in the public sector, in Social Sciences 2008, University of Stavanger: Stavanger.
Wiig, S. and K.J.S.s.m. Aase, Fallible humans in infallible systems? Learning from errors in health care. 2007. 11(3): p. 1-13.
Wiig, S. and G.S. Braut, Developments in analysis of adverse events in Healthcare - policy and practice in Norway. I: Prevention of Accidents at Work. CRC Press, 2018: p. 39-45.
https://doi.org/10.1201/9781315177571-6
Ocloo, J.E., Harmed patients gaining voice: challenging dominant perspectives in the construction of medical harm and patient safety reforms. Soc Sci Med 2010. 71(3): p. 510-516.
https://doi.org/10.1016/j.socscimed.2010.03.050
Carel, H. and I.J. Kidd, Epistemic injustice in healthcare: a philosophial analysis. Med Health Care and Philos, 2014. 17: p. 529-540.
https://doi.org/10.1007/s11019-014-9560-2
Tritter JQ. Revolution or evolution: the challenges of conceptualizing patient and public involvement in a consumerist world. Health Expect. 2009, 12(3):275-87.
https://doi.org/10.1111/j.1369-7625.2009.00564.x
Richardson et al. User involvement in regulation: A qualitative study of service user involvement in Care Quality Commission inspections of health and social care providers in England. Health Expectations. 2018:1-9.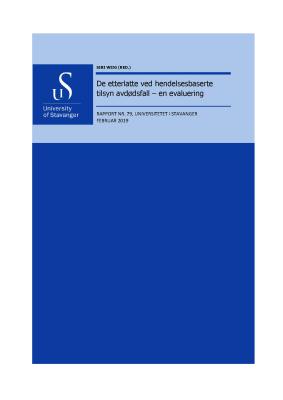 Downloads
Categories
Copyright (c) 2019 UiS Scholarly Publishing Services
License
This work is licensed under a Creative Commons Attribution 4.0 International License.