A Human Factors approach to medication administration in nursing homes
Keywords:
nursing homes, medication administration
Synopsis
Medication administration causes a significant number of healthcare-related adverse events in primary care. In recognition of this, the World Health Organization has instigated a worldwide effort to reduce avoidable medically related harm by 50% over the period 2017−2021. A Human Factors approach has proven appropriate in research and clinical improvement across healthcare domains.
 The paramount aim of the thesis is:
 "To use a Human Factors approach to explore the complexity of the medication administration process in nursing homes, thereby contributing to the prevention of adverse drug events"
 To accomplish this, a qualitative mixed-methods approach was applied, with observations and individual interviews from two different nursing home wards. The data were analysed using qualitative content analysis.
 Three objectives are addressed in the study:
To contribute to in-depth knowledge of the characteristics of medication administration and interruptions in nursing homes.
To expand the knowledge of the nurse role during medication administration in nursing homes.
To explore the dynamic interactions of stakeholders and work system elements in the medication administration process in a nursing home.
The objectives are responded to in three papers.
Paper I describes the administration of medications in nursing homes. It shows that the complexity of medication administration is ingrained in the work system of the nursing homes and consists of persons, tasks, tools and technology and the physical environment and how these elements interact. Furthermore, different types of interruptions are characterised; active, passive and technological. Some interruptions may have positive outcomes, but most interruptions have adverse outcomes and have become normalised in the nursing home work system.
Paper II describes the nurse role during medication administration as compensating, flexible and adaptive. During medication administration, the nurse continuously compensates on an individual level to match skills and competencies with the surrounding staff. Nurses are flexible when engaged in teams and adjust task delegation according to the professions present. At an organisational level, the nurse adapts to the changing workload and report staff stability as critical to safely manage medications.
Paper III applies SEIPS-based process modelling to map out facilitators and barriers to safe medication administration in a nursing home ward. Most of these are associated with the elements "tools & technology" and "tasks" in the SEIPS work-system and are mostly present during ordering and transcribing of medications in the medication administration process.
In summary, the complexity of medication administration in nursing homes reflects the characteristics of the persons, tools & technology, tasks and organisation that interact and adapt according to shifting circumstances. There are six stages in the medication administration process with over 60 associated facilitators and barriers. The nurse has a central role, compensating for variations in competence and being flexible to meet the demands of the patients. Efforts to improve medication safety in nursing homes should target specific types of errors and be multifaceted.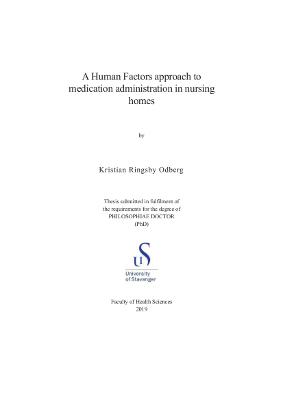 Copyright (c) 2020 The Author(s)